Hermes Bolide bag 31 Moutarde Clemence leather Silver hardware
Product code : msbo2411912
Hermes Bolide 31cm.
Meet the spicy new yellow, Moutarde!
Also an iconic bag like the Birkin and Kelly, Bolide was created in 1923, and it was the first ever handbag to incorporate a zipper.
It was initially named as "Bugatti" as it was a very functional bag, large, round and comes with a shoulder strap and a pocket sewn inside.
Titled "The Time Ahead", the 2012 campaign consists of new and re-issued colours.
Take a glimpse at Hermes's perspective of the world where a new yellow, Moutarde, which means Mustard, is unveiled for this 2012 collection.
The beauty of the Clemence leather is that it develops a character as it ages and after usage.
This leather is an epitome of premium quality with its delicate finish and serves to accentuate a look which is reminiscent of femininity.
Savour the soft and pliable texture of the Hermes leather and discover how this durable grainy leather is also a hardy material as it is resilient to scratches and dirt even when used daily.
Indulge in the beauty of Moutarde, a newly created yellow after other popular yellow shades like Jaune d'or and Lime.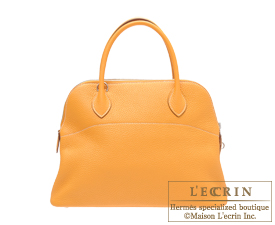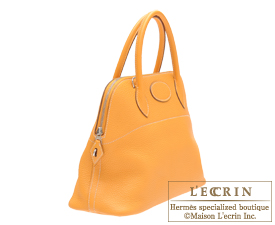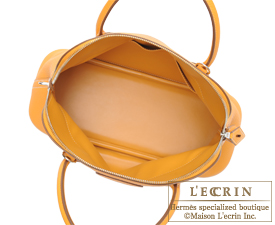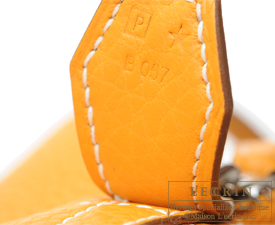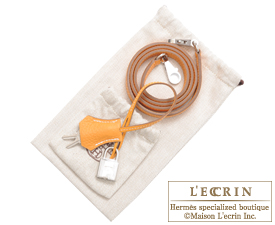 Model
HERMES BOLIDE 31
---
Color
Moutarde/Mustard yellow
---
Material
Clemence leather
---
Hardware
Silver
---
Measurements
(W)31×(H)23×(D)13cm
---
Accompanied by the original Hermes
Shoulder strap,Padlock,Key,Raincover,Box,Cotton bag
---
※All measurements are approximate.