Hermes Birkin bag 25 Ruby Togo leather Gold hardware
Product code : msbk2305212
Hermes Birkin 25cm.
Bold & lustrous colour, Ruby!
Ruby was introduced in 2010 Autumn Winter colour and means "red" in Latin.
It is originally found in Southeast Asia and Africa.
Imagine this passionate red to the scorching sun shining down upon earth.
Ruby is also the traditional birthstone for July.
Isn't it auspicious to carry a Ruby Birkin!?
The beauty of the Togo leather is appreciated as it naturally possesses a texture that is neither too hard nor too soft, making it one of the most popular leather.
Savour the smooth and fine texture of the Hermes leather and discover how this grainy leather is also a hardy material as it is resilient to scratches and dirt even when used daily.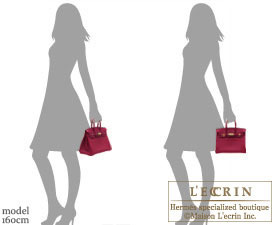 Model
HERMES BIRKIN 25
---
Color
Ruby/Dark red
---
Material
Togo leather
---
Hardware
Gold
---
Measurements
(W)25×(H)20×(D)13cm
---
Accompanied by the original Hermes
Padlock, Key, Raincover, Box, Cotton bag
---
※All measurements are approximate.